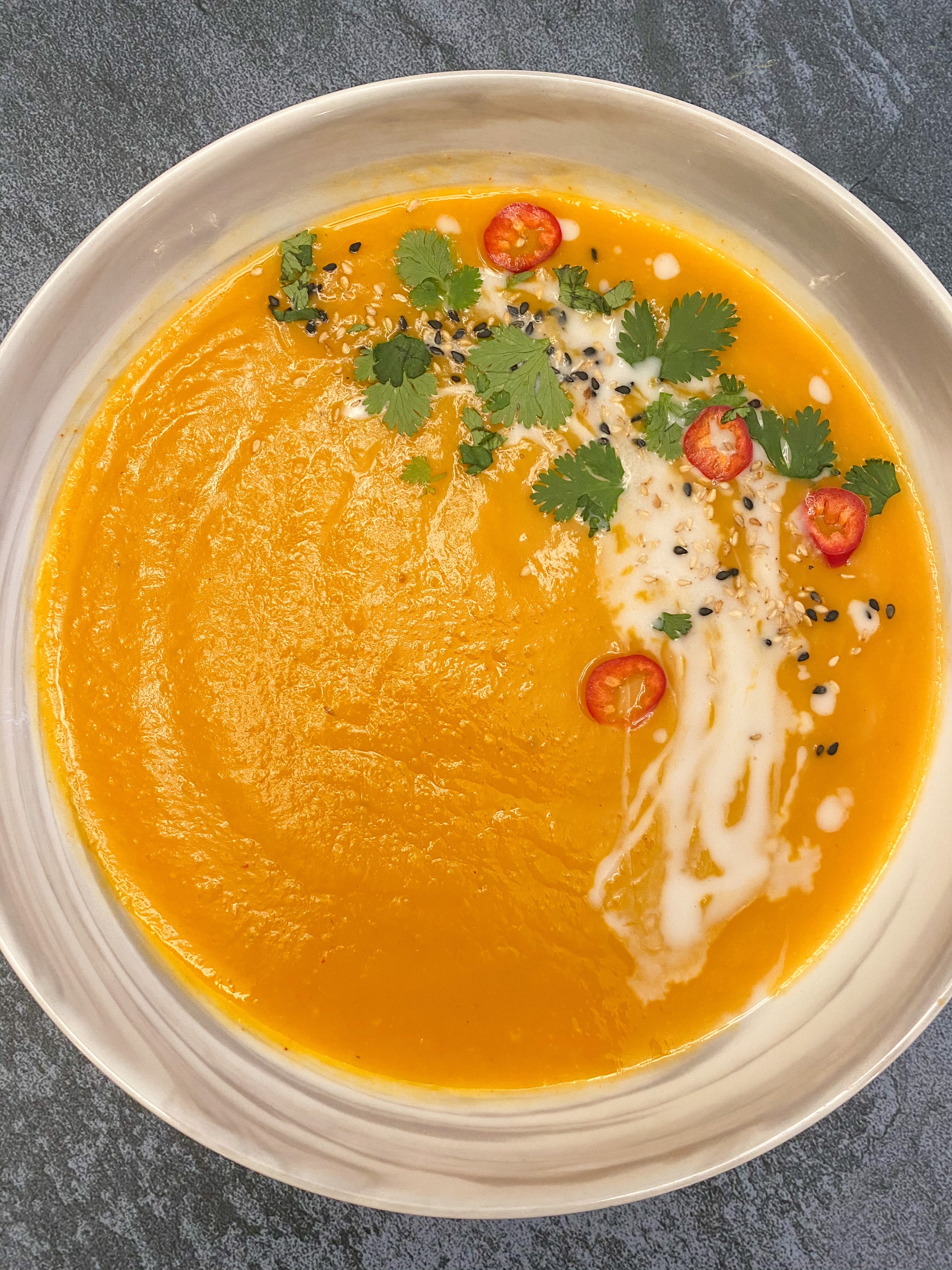 Spicy Thai Butternut Squash Soup
Nicole Jimenez
This soup is delicious. It's packed with flavor, loaded with veggies and just plain tasty! It's a simple dish that will leave you satisfied. And, I know it says Spicy Thai soup but I promise it's not super spicy. The peppers are mild and feel free to adjust the curry paste if you can't stand the heat! :)

This week's packs included all of these ingredients so here's a great way to use your produce...hope you love it as much as we did!
Ingredients
One Butternut Squash
One Onion
Garlic
3 Tbsp Red Curry Paste
2 tsp Curry Powder
1ltr Vegetable Broth
1/4 cup Coconut Milk
2 Tbsp Honey
Nardello Pepper
Cilantro
Sesame Seeds to garnish
1. Preheat oven. You'll cook the squash at 400 for about 30 minutes.
2. Roast your squash. Cut your squash in half lengthwise and place on parchment with meat-side down. Bake for about 30 minutes or until soft. Let cool.

3. Start your soup. In a large pot, saute your onions for a few minutes until translucent. Add your garlic. Cook for 2-3 minutes.
4. Spoon out the squash. With a large spoon, spoon out the seeds from the squash and set aside. Then. spoon the meat (insides of the squash) directly into your soup pot. Remove all meat from the skin. Discard the skin.
5. Add your seasonings. Add your curry paste and powder. Then add your broth, honey and coconut milk. Combine well.  Bring to a boil. Then cover your pot and let simmer on low heat for about 10-15 minutes. Be sure to taste your soup and add any more seasonings you'd like at this stage.

6. Blend. Blend your soup and serve. Drizzle some extra coconut milk around your soup and top with fresh nardellos (or your favorite pepper), cilantro and sesame seeds. Enjoy!!