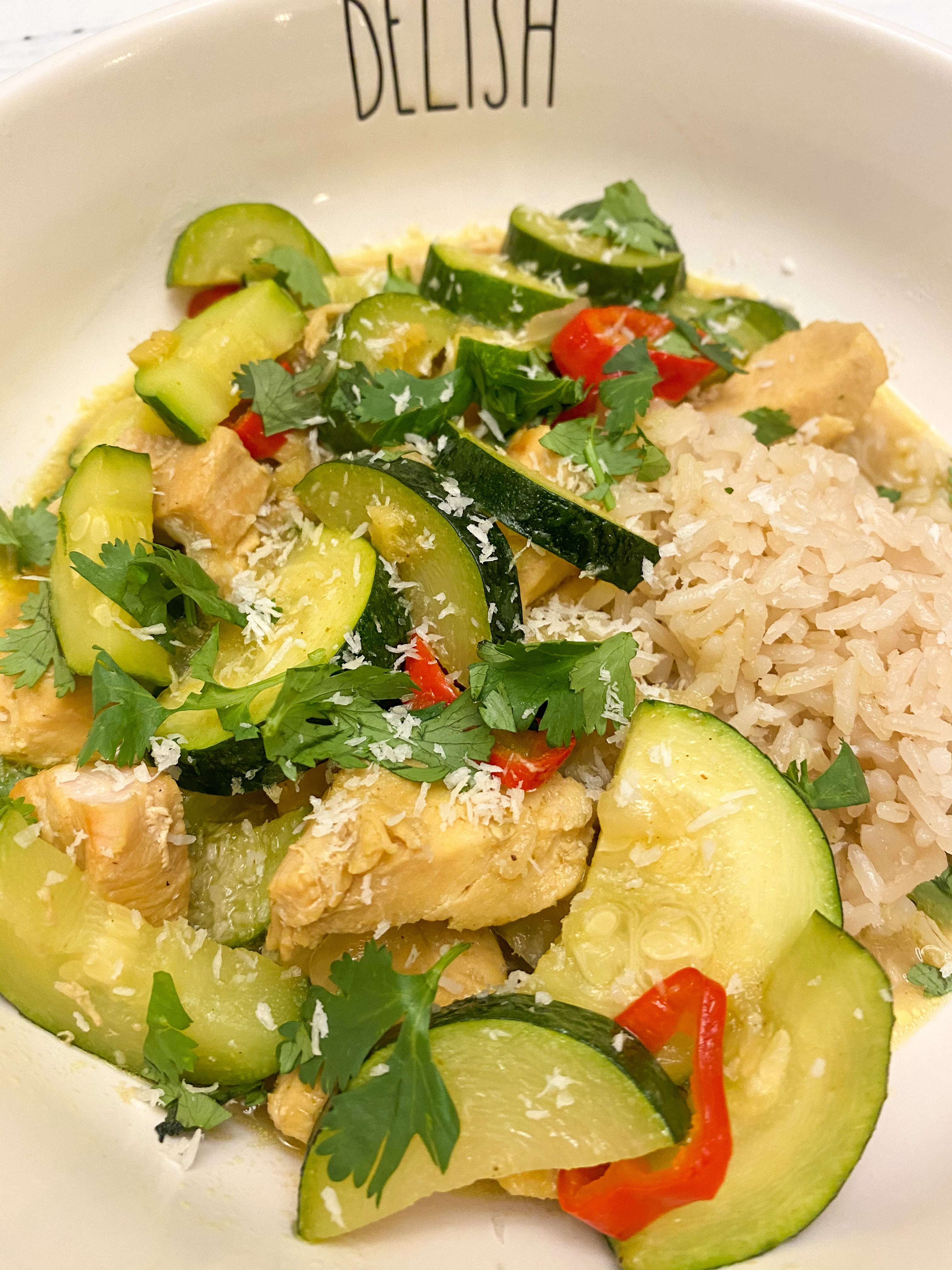 Instant Pot Coconut Curry Chicken
Nicole Jimenez
I love a good instant pot meal.This one is loaded with veggies and so so tasty! Don't be afraid of the curry, it really gives the veggies some flavor without being spicy.
If you're anything like me, you create a mess of dishes in the kitchen sink by the time you're done making dinner. So, a good instant pot dinner helps me keep my kitchen clean. The magical pot is also great when you don't have a lot of time. This, like all of my other recipes are totally modifiable. I used what I had in last week's pack (Zucchini, Nardello Peppers, Cilantro) but feel free to use whatever veggies you have on hand. Carrots would be tasty... maybe some cauliflower. Make it your own....

INSTANT POT COCONUT CURRY CHICKEN
INGREDIENTS
2-3 chicken breast (cubed)
1 Onion (diced)
Zucchini
Peppers
Cilantro
Garlic
Green curry
Curry powder
Coconut milk
Vegetable Broth
Nuts (optional)
Shredded coconut (optional)


1. Turn instant pot on sauté mode. Add some olive oil to the pot. Sauté chicken until browned, about 3-5 minutes.


2. Add onion and garlic and cook until translucent. Add broth, coconut milk and green curry. Season with curry powder, salt & pepper.


3. Put lid on instant pot. Be sure release calls is sealed. Cancel sauté mode and start pressure cooking mode. High for 10minutes. Release valve and let steam release completely before opening lid.


4. Open lid and add zucchini and peppers. Put back on sauté mode and let cook for about 5-7 minutes until veggies are cooked.


5. Serve with rice. Top with nuts (we used roasted peanuts) for some crunch. Or try some shredded coconut for a little sweetness.