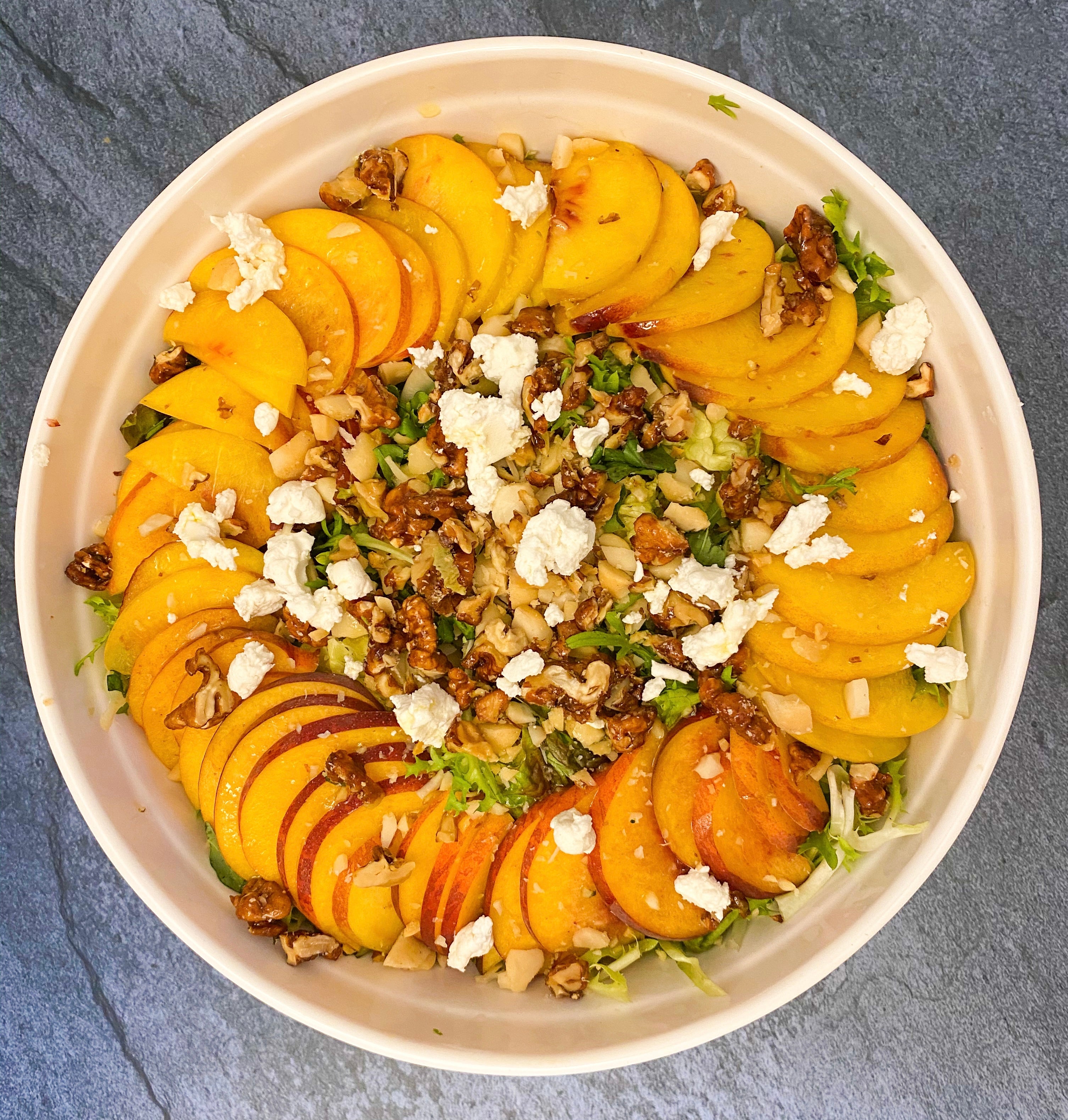 Peach Frisee Salad
Nicole Jimenez
It was a first for me to use Frisee in a salad. I've had it from time-to-time when eating out but it was my first time using it. And I'm mad I never used it before. It's a bit peppery compared to the red leaf lettuce (but not the same as arugula) but it's a great balance with the sweet peaches and dressing. This salad is full of flavor. And loaded with so much GOOD STUFF! I used four items from this weeks produce pack to make this one. 

Ingredients
2 Peaches
1 Head of Frisee
1 Red Leaf Lettuce
1 Bunch of Basil
Nuts: Walnuts and Macadamia Nuts
Goat Cheese crumbles
Your favorite sweet dressing: Something like a pomegranate, poppyseed, or Balsamic Vinaigrette/Olive Oil

1. Clean your veggies. I know, it shouldn't need to be said, but I said it!

2.Chop your greens. Frisee, Lettuce, and Basil. Combine in a big salad bowl.

3. Cut the peaches. Slice thin so you can have some with every bite.
4. Chop some nuts. In my case, I used some honey walnuts I had on hand as well as some macadamia nuts. You can use almonds or regular walnuts and it'd be just as good.

5. Cheese, please! Crumble goat cheese over everything. If you don't like goat cheese, maybe feta would be a great sub.

6. Add your dressing and EAT! I made my own pomegranate dressing (recipe coming soon) but you can use any of your favorite light, sweet dressings.

After I made it, I had the thought that dried cranberries would be another great add.. I'll try it next time and let you know how it goes. I'm also thinking of adding some pomegranate seeds since it's in our packs and a great crunchy sweet add-on for salads.