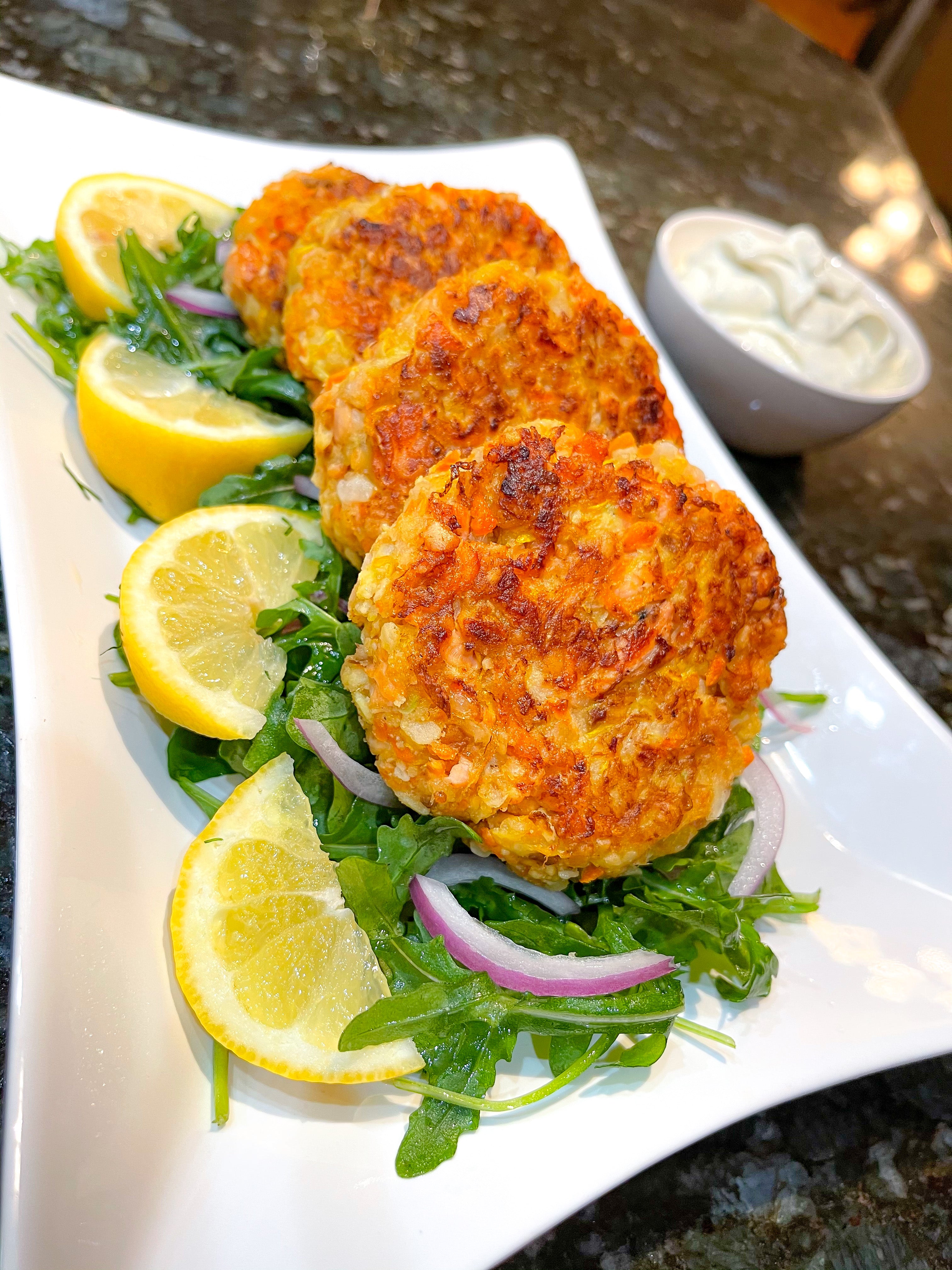 Salmon Cakes
Nicole Jimenez
Hubby went Salmon fishing for the first time. It sounded like a great time but I'm not a morning  person and the idea of being on a cold boat at 5am is NOT my cup of tea. He loves this stuff. So... he fishes, i cook! :)
We had Salmon for about three days. I did the usual grilled salmon the first day and then I decided to try something new with these cakes. I am a HUGE crab cake lover so I used that as my 'inspiration' and i think I might like these better!! I was pleasantly surprised with how well they came out. And the dill dip was the finishing touch to a light, tasty meal.
What you'll need:

1 cup gold Zucchini (grated)
1 cup Carrots (grated)
1 onion (grated)
1 cup panko
1 Salmon Filet (about 1-2 cups of flaked, cooked salmon)
2 eggs
Salt & Pepper

For the dip:
Creme Fraiche (sub with Mayo if you prefer)
Dijon
Dill
Lemon Juice (optional)
Directions: Combine zucchini, carrots, onion in a cheese cloth and strain all the liquid. This will keep your cakes from being to watery. They will hold together nicely.



Once strained, add panko, eggs, S&P. 
Then add flaked salmon.
Make your cakes. Form into cakes about 1/2-1 inch thick. Once formed, put cakes in the freezer for about 5 minutes just to set.
While it's setting, combine your ingredients for the dip, to taste. I'm not a huge Dijon fan so I only added a spoonful to the full container of creme fraiche. It makes a tart tasting dip that will be great with your cakes.
Remove cakes from freezer and cook about 4-5 minutes per side until golden. Enjoy as-is or serve on a quick arugula salad (I dressed my arugula with lemon juice and olive oil and added a few sliced red onion).